CTV Morning Live: Mortgage Minute- November 6, 2018
Date Posted: November 8, 2018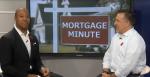 Within the mortgage industry, members are continually working with the federal government and regulators to help them better understand the challenges of our industry.
Across Canada, mortgage origination numbers have been down which links to the impacts of the stress test on borrows. Alternatively, the Ottawa market has remained on pace given the stability of employment and affordable home prices. Although the industry does not anticipate another level of stress test guidelines to be introduced, there are some changes to the industry that will become apparent.
As interest rates are expected to rise, borrowers can expect increased borrowing costs with the anticipation of further increases from the Bank of Canada. If you have a variable rate mortgage and are concerned about the cost of rising interest rates, it's best to contact your Mortgage Broker to discuss some potential scenarios.